8
07
2010
Un peu plus qu'un plan, une scène complète résume à ce jour le travail de John Carpenter. Cette scène (si vous ne connaissez pas le film, courrez le voir) c'est cette fameuse dispute de Invasion LA (They live en VO). La scène est d'une simplicité incroyable : John Nada demande à son ami Franck (qui ne l'est pas vraiment à ce moment du film) de mettre des lunettes. L'un insiste, l'autre refuse, la dispute est inévitable. S'ensuit un vrai combat de catch (John Nada est interprété Roddy Piper catcheur pro de son état) avec pour unique but : une paire de lunette.
« Put on the glasses ! »
Il y a tout Carpenter dans cette scène exagérément longue et excessive : de l'action, de l'humour, un brin de provocation et évidemment une satire sociale. Parti d'un élément mineur (les lunettes), il en tire une scène de cinéma qui elle même a son sens propre. Car ne nous trompons pas, ces fameuses lunettes qui permettent à son possesseur de démasquer les extraterrestres, sont avant tout un scanner anti-libéraux. La série B dans ce qu'elle fait de mieux, un cinéma burné et engagé. Un cinéma où l'auteur se fait plaisir sans pour autant oublier le spectateur, un cinéma engagé ou le message est simple sans être réducteur. Et le mieux de tout, un cinéma qui se bonifie avec les années. Alors même que le monsieur compte déjà de nombreuses réussites au cours de sa carrière (Assault, The Thing, Halloween, NY 1997, Jack Burton …), malgré de faibles moyens dûs en grande partie aux échecs commerciaux de ses précédents films, Carpenter reste droit dans ses bottes et fidèles à ce qu'il sait faire, et pour cela on ne peut que lui tirer notre chapeau.
Et dire que ce film passe et passait à répétition sur M6. Une pure coïncidence ? de l'inconscience ? une provocation ? Big John a de toute façon répondu à cette question à sa manière, le siège de ses extraterrestres libéraux se trouve (spoiler) dans la chaine de TV.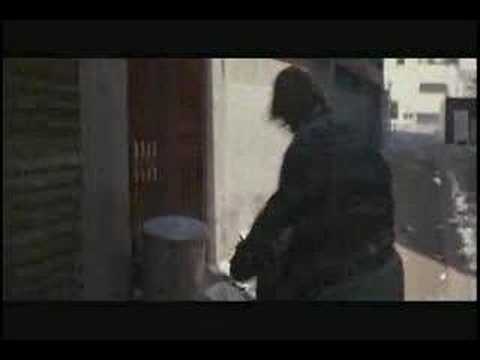 Commentaires :
1 Commentaire »
Catégories :
Invasion Los Angeles
,
UN FILM UN PLAN