14
04
2011
Un jeune désoeuvré, aigri par les frustrations quotidiennes, entre en rébellion contre la société. Il entreprend de se confectionner une armure et de rassembler un arsenal de guerre. Son but: une fusillade en pleine rue grâce à laquelle il réglera ses comptes.
On en revient toujours là, un film = un réalisateur. Celui de Rampage n'est autre que le fameux Uwe Boll, réal le plus honni sur la toile suite à ses adaptations ratées, et donc fameuses, des jeux vidéos que sont House of the Dead, Alone in the Drak ou encore Farcry. Pour regarder Rampage il faut donc avoir ce petit côté déviant qui pousse à la surenchère nanaristique, ou alors il faut être tombé sur ce pitch racoleur mais oh combien jouissif, qui résonne dans nos oreilles comme un GTA like : un mec se confectionne une armure pour aller buter les premières personnes qu'il rencontre dans la rue. Mais y-a-t-il un sens profond derrière tout ça ?
Le thème de la rébellion contre la société ça fait très crise d'adolescence, le protagoniste principal est d'ailleurs lui aussi un adolescent, de là à dire que Rampage est une version non censurée et bien plus explicite de Elephant de Gus Van Sant, il n'y a qu'un pas qu'on franchira allègrement. C'est une sorte de négatif artistique auquel les plans séquences lents et soignés de la palme d'or 2003 trouvent en écho du gloubiboulga de réalisation. Ça tourne, ça bouge, ça saute, autant d'éléments qui ne me permettent pas de dire qu'Uwe Boll est mauvais metteur en scène, mais ce qui est certain c'est qu'il ne nous a jamais prouvé la moindre once de talent.
Le film de Gus Van Sant (mais pourquoi continue-t-il a comparer les 2 films se demandent certains) refusait de se livrer, Michael Moorement parlant, à de véritables explications des faits, plutôt tentait-il de dresser un spectre large et non exhaustif des possibles raisons de ces drames. Le point de vu de Boll est là beaucoup plus retors, tant on se sait toujours pas s'il s'agit là d'une pure fiction à vocation bête et jouissive (à la manière d'un Hyper Tension 2), ou s'il y a là matière à un discours vaindicatif et prosélytique … C'est une sorte de Verhoeven sans le talent, et quand on sait comment certains films du hollandais violent ont été accueillis (je pense là en particulier à Starship Troopers)… Je crois que UB n'est finalement qu'un provocateur de plus, dont le cynisme n'a d'égal que ses personnages. Uwe Boll, l'homme qui dit ce que les autres n'osent pas faire.
Rampage n'est donc (évidemment) pas un film techniquement ou scénaristiquement réussi (on exceptera l'excellente et semi-hilarante scène du bingo) mais son réalisateur, à la manière du personnage principal, continue son travail de fond qui consiste à fusiller le cinéma, ses conventions et toute les bonnes morales bien pensantes avec tellement de rage, qu'on peut au moins lui accorder le bénéfice de la violence et de l'anti-conformisme.
Dans la catégorie des films assez mauvais qui sont néanmoins à voir.
Réunion entre Uwe Boll et ses détracteurs :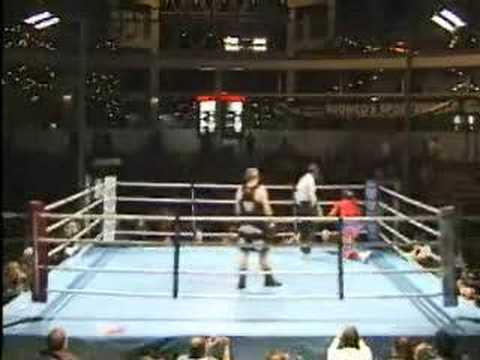 PS. J'oubliais de préciser que le prochain projet de M. Boll s'intitule Auschwitz, tentant non ?