20
01
2009
…faire un film ! NTM n'aurait pas dit mieux.
Ces réalisateurs vous on fait saliver, ils sont indissociable de votre culture ciné, et pourtant ils se font trop rares sur nos écrans. Paresseux ? Victime du système ? En manque d'inspiration ? Ou tout simplement (et là c'est moins de leur faute) non distribués chez nous? Voici 5 réalisateurs dont on aimerait avoir des nouvelles, ou plutôt des images, le plus VITE possible !!! :
1 - Shinya TSUKAMOTO.
Dernier film connu en france : Tokyo Fist en 2001.
Pourquoi l'attendre ? :Le réalisateur à la caméra folle, dont Aronofsky dit s'inspirer, est l'instigateur au début des années 90 d'une nouvelle façon d'appréhender le cinéma avec l'émergence du mouvement cyberpunk au cinéma. Les témoins, qui ont survécu à la vision de TETSUO, ne diront pas le contraire.
Son crime : Être un précurseur dont le style peut vite effrayer.
Des raisons d'espérer : 2 films sont encore inconnus, Nightmare detective et Vital.
2 – John CARPENTER
Dernier film connu (hors Masters of horror) : Ghost of Mars en 2001.*
Pourquoi l'attendre ? : On a tous forcément aimé un jour ou l'autre un film de ce grand bonhomme du cinéma, que se soit The Thing et son univers horrifique, Halloween la nuit des masqueset l'établissement des codes du slasher movie, Jack Burton ou comment faire Kill Bill avec 15 ans d'avance… La liste est longue et comme vous êtes des gens respectables vous la connaissez déjà.
Son crime : Ne pas dire amen aux studios
Des raisons d'espérer : La série Masters of horror semble lui avoir redonner goût à la réalisation, et tant mieux, son nouvel opus, L.A Gothic, devrait arriver dans nos salles courant 2009.
3 – Joe Dante
Dernier film connu en france : 2001.
Pourquoi l'attendre ? :Parce qu'on est un peu con et que Gizmo c'est quand même plus sympa que Winnie l'ourson.
Son crime : Essayer d'apporter un peu de série B dans le système hollywoodien.
Des raisons d'espérer: Assez peux pour être honnête, son épisode de Masters of horror (décidément) Vote ou crève, montre pourtant qu'il n'a rien perdu de sa verve.
4 - Gaspar NOE
Dernier film connu : Irréversible en 2002.
Pourquoi l'attendre ? : Car Carne est la plus grande claque dans la gueule que le cinéma français est engendrée depuis beaucoup trop longtemps.
Son crime : Politiquement pas correct.
Des raisons d'espérer : Enter the void dont la préparation (trop longue !!) semble toucher à sa fin.
5 – Rêvons un peu Ken RUSSEL.
Dernier film connu : LOVE en 2001.
Pourquoi l'attendre ? : Parce q'un peu de folie n'est pas pour nous déplaire. Pour rappel l'histoire de Tommy est celle d'un aveugle, sourd et muet qui veut devenir champion du monde de flipper !!
LE crime: Le DVD de THE DEVILS, peut être le film le plus puissant des années 70, n'existe pas encore !
Des raisons d'espérer : King X et Moll Flanders dans les cartons. Mais attention l'âge du capitaine (80 ans) n'augure rien de bon.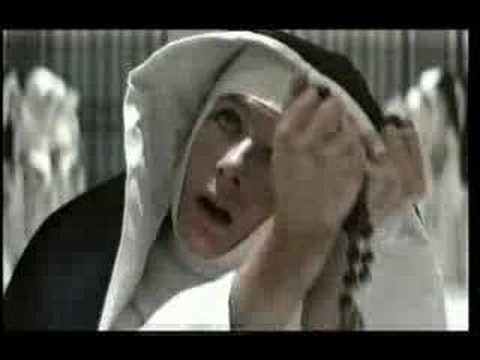 La qualité de la vidéo ne reflète heureusement en rien celle (magnifique) de la pellicule